Want a cost effective way to get your team more productive? Consider standing workstations for your employees to help them combat the health risks associated with sedentary desk jobs.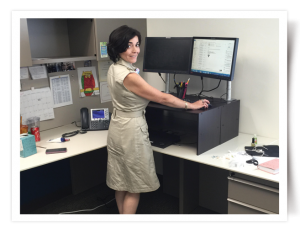 Research shows that sitting at your desk all day is just as bad for your health as smoking. Even if you exercise regularly, a desk job minimizes the health benefits of your workouts.
The team at Healthy Lives devised an affordable and professional looking solution to create a standing work station for less than $30. At a minimum, you should try to stand or walk around for 15 minutes for every one hour you are sitting each day to give your body movement and to increase your productivity.
What you need:
Two, 31-inch laminate stacking storage shelves you can purchase at your local home improvement store
Assemble the shelves and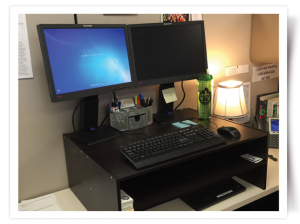 place them on top of your workstation as shown in the picture to the left.
For added support for your feet and to relieve pressure on your heels, back, legs and shoulders, purchase an anti-fatigue or yoga mat and stand barefoot or in slippers or socks.
Now stand up and reap the health benefits of your new workstation!
Healthy Lives is a unique approach to corporate wellness that helps employers improve their employees' health and productivity and reduce healthcare costs through an unparalleled combination of deep clinical expertise, personal service and comprehensive solutions.